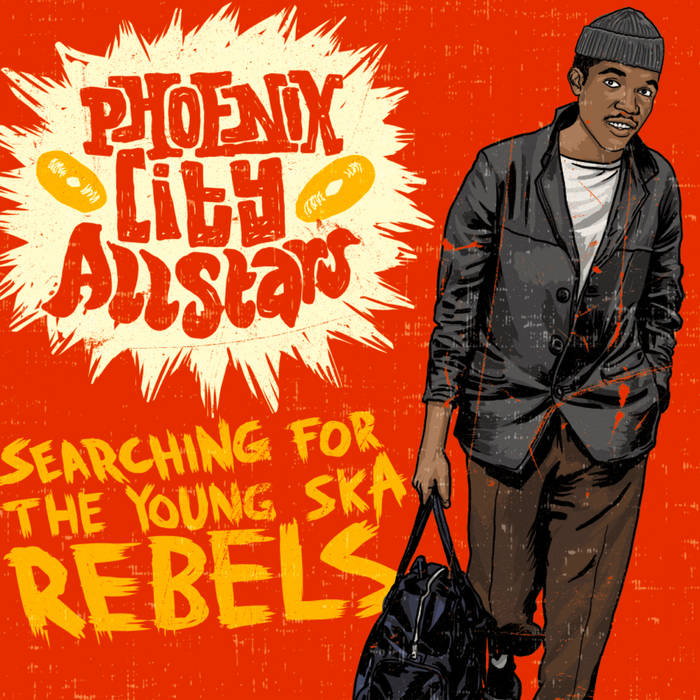 UN PEU D'HISTOIRE : PHOENIX CITY ALLSTARS,  c'est le groupe de Londres formé en 2011 avec dedans des gars qu'on a pu croiser dans Pama International, Intensified ou dans Sidewalk Doctors. Leur spécialité: les reprises.
En 2012, le groupe s'était attaqué au répertoire two tone avec « Two Tone Goes Ska » sur Phoenix City Records, suivi en 2014 par un disque hommage aux Rolling Stones, « Skatisfaction », chez Hotshot & Scorcher. Signalons au passage que les deux labels sont ceux de Sean Flowerdew (claviers), qui était il n'y a pas si longtemps à la tête de Rockers Revolt. Qu'est-ce qu'il fout avec ses labels ? J'en sais foutre rien, allez plutôt lui demander.
Toujours est-il qu'en 2015, les Londoniens ont annoncé qu'ils allaient sortir un album entièrement consacré à « Searching For The Young Soul Rebels », cultissime album des Dexys Midnight Runners. « Searching For The Young Ska Rebels » (c'est son titre) vient donc de sortir sur Happy People Records, label récemment fondé par Lenny Bignell (des Sidewalk Doctors) et… Sean Flowerdew.  (suite…)
in
Hé oui c'est possible. Après s'être intéressé à la scène two tone avec « Two Tone Gone Ska » en 2012, puis aux vénérables Rolling Stones en 2013 avec « Skatisfaction », voilà-t-y pas que PHOENIX CITY ALLSTARS, le groupe de Sean Flowerdew, le gars de Pama Internationnal, s'attaque au mythe Dexys Midnight Runners et à cet album culte qu'est « Seaching For The Young Soul Rebel ».
C'est évidemment en version ska que tout cela va être réinterprété, et rien que de voir la pochette, ça donne foutrement envie. Le disque sera disponible au prochain London International Ska Festival, et vous pouvez le précommander ici en CD ou en vinyle limité à 250 exemplaires histoire d'avoir une plus belle collection que votre voisin.
En espérant qu'il sorte vraiment parce que le nouveau Pama International censé être 100 % soul, on l'attend toujours…
in
Salut à tous et a toutes ..Rudeboys & Rudegirls, pour cette nouvelle émission nous vous proposons une découverte de l'actualité « sonore » de notre webzine.. un bon moyen de découvrir nos groupes favoris autour de l'actualité Ska, Rocksteady,   Skinhead Reggae, Soul !!!
Y a pas à dire Rude Boy Train c'est fait pour toi ….. (suite…)
in