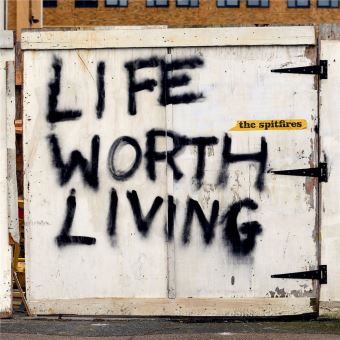 UN PEU D'HISTOIRE: Et de quatre ! Avec « Life Worth Living », c'est déjà son quatrième opus que nous livre ici le superbe combo de Watford devenu trio (mais souvent quintet en live) en moins de dix ans.
Les deux premiers opus sont sorti chez Catch 22 en 2015 et 2016, et le troisième, « Year Zero », avait fait forte impression en 2018 chez Hatch Records, notamment grâce à un single imparable: « Over and over again ».
Cette fois c'est du côté d'Acid Jazz Records que ça se passe, avec une recette toujours un peu soul, un peu punk, un peu ska, et des extraits dévoilés au printemps dernier qui nous avaient pas mal retourné le ciboulot.
LE DISQUE: Dix titres. Pas un de plus. Voici donc un album ramassé, direct, bien coiffé avec la raie sur le côté et pas un poil de boule qui dépasse. Autant vous dire que celui-là je l'attendais de pied ferme. (suite…)
in
On n'en peut plus, on est impatient, au bord de l'émeute en attendant le 5 juin, date de sortie de « Life Worth Living », le nouvel opus du trio quatuor quintet anglais de THE SPITFIRES, chez Acid Jazz Records.
On avait déjà eu droit à « Tear This Place Right Down », atomique, et à « (Just Won't) Keep Me Down », gigantesque. Mais le troisième extrait, « Life Worth Living » n'est pas en reste. Beat reggae/rock, arrangements dans la plus pure tradition pop british, dégaines de champions. Je sais pas vous mais moi ça me fout une demi-molle je vous dis pas… (suite…)
in